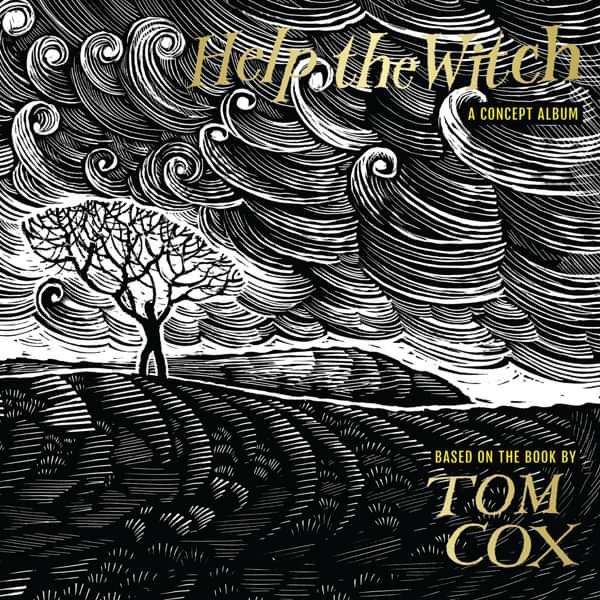 VARIOUS ARTISTS - Tom Cox's Help The Witch - A Concept Album (WAV)
10 Gemma Khawaja - Speed Awareness.wav
9 Jim Ghedi - Help The Witch.wav
7 Widow's Weeds - Woodcat.wav
8 Daniel Davies - Things You Might Say.wav
4 Bobby Lee - Listings.wav
5 Stick in the Wheel - Robot.wav
6 Jack Sharp - Vanished House.wav
2 Trimdon Grange Explosion - The Pool.wav
1 Zervas & Pepper - Reeds and Rushes.wav
3 The Left Outsides - Séance.wav
Help The Witch was acclaimed writer Tom Cox's otherworldly fiction debut of short stories that broke Unbound's record for pre-orders in 2018. When Tom approached us about making a soundtrack to his book by asking some of his favourite musicians to write a new track based on one of the ten stories, we were thrilled. It's one of the reasons we started the label, to reach across genres and art forms and get great music in front of people. These artists all have very unique ways of interpreting folk and landscape-inspired music and it's an ideal companion to the bestselling book.
TOM COX SAYS:
In recent years, I have begun to think of my books as more like albums: maybe not quite what you'd call concept albums, but certainly albums where there's something conceptual going on, where the order of the tracks (chapters) is crucial, and creates a narrative, even if the narrative is slightly abstract and non-linear. It's probably no coincidence that, over the exact same period of time, a question I've received more and more from readers is, "Could you recommend a soundtrack to this book?" The book I've been asked this question about most frequently about is my 2018 collection of short stories, Help The Witch: a "sort of ghost book", a book about landscape, earth magic, liminal spaces, folklore and creatures that teeter on the line between reality and the beyond. My music listening was an important part of the creation of the book, as it always is, and I could easily have put together an already-written soundtrack to it, but then I had another thought: What if there was a totally new soundtrack to the book, made by a variety of unusually talented musicians, living and working now? An album that was spooky, and atmospheric, like the book, and echoed its themes, but also totally its own piece of art, independent from it?
On Help The Witch: The Concept album, hand-picked musicians from the British Isles will take a story from Help The Witch as a jumping off point, and create their own piece of music from it.
These are as diverse as Cromer-based Gemma Khawaja turning a tale about a ghost speed awareness instructor into an epic, hot-blooded 16th Century folk ballad that never was, Sheffield's Rob Lee drenching the history of a marsh goblin in cosmic country rays, and Scotland's Grey Malkin - formerly of The Hare And The Moon - performing a wyrd folk extrapolation on a persecuted Derbyshire witch. Many of the musicians here have a strong regional identity, which is apt, as much of the book does too. I have been lucky enough to be accompanied by several musicians at my spoken word events over the last few years and am even luckier that they - Zervas And Pepper, The Left Outsides, Jack Sharp and Dan Davies of Wolf People - have agreed to contribute here. In Stick In The Wheel's From Here Records - whose two Field Recording LPs have been a couple of my very favourites of the last few years - I have also found the ideal label to release the album on gatefold vinyl, and Stick In The Wheel themselves have contributed their own song inspired by one of the book's most unusual stories, Robot. If you'd told me I'd be able to gather such a fantastic group of musicians in one place to write around these stories while I was writing the book, I would not have believed you. As for the finished tracks: each of them has blown my mind, in its own unique way. I do not think it's an understatement to say that this record is a greater work of art than the book that inspired it, and quite probably THE Folk Horror Album of 2020.