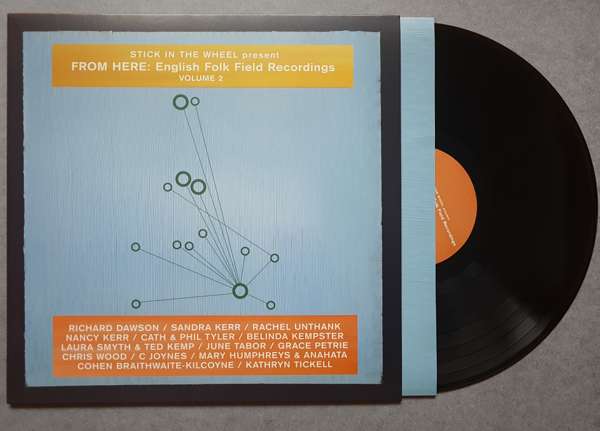 English Folk Field Recordings Volume 2 LP with printed inner sleevenotes
A second snapshot of the English folk scene right now - from seasoned professionals to folk club singers, everyone is equal. Recorded on location, in front rooms and kitchens with two pairs of microphones, capturing immediate, intimate performances. For this second volume, we cast our net wider. From old Northumbrian kingdoms, through the Midlands, way over to the Welsh border, with an expanding set of experimental and traditional musicians interpreting the music that roots them, in their own unique ways. This is not the collecting of songs - rather, the documenting of a continuum that thrives, flourishes and persists in this country. This is each artist's response to what From Here means to them, by way of identity or place, feeling, reflection or memory: "this is who I am, this is where I'm from".
Heavyweight 180g vinyl.
Tracklisting:
gan tae the kye/peacock followed the hen NANCY KERR
the sandgate dandling song RACHEL UNTHANK
cottenham medley C JOYNES
the almsgiver RICHARD DAWSON
ladle/richmond CATH & PHIL TYLER
barbera allen MARY HUMPHREYS & ANAHATA
the king of rome JUNE TABOR
adieu sweet lovely nancy LAURA SMYTH & TED KEMP
two lovely black eyes COHEN BRAITHWAITE-KILCOYNE
a young woman's tale GRACE PETRIE
nightingales BELINDA KEMPSTER
bonnie pit laddie/lads of alnwick KATHRYN TICKELL
so much to defend CHRIS WOOD
nancy clough SANDRA & NANCY KERR