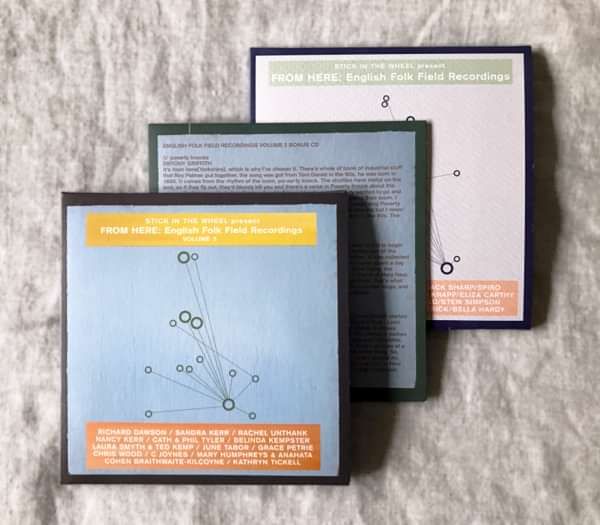 BUNDLE: English Folk Field Recordings CD Volumes 1 & 2 plus limited edition BONUS CD
Both volumes of English Folk Field Recordings plus Volume 2 bonus CD.
This bundle also includes: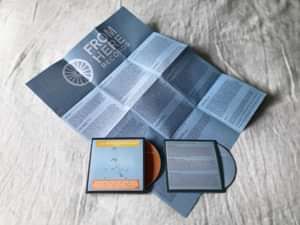 English Folk Field Recordings Volume 2 CD with foldout map and sleevenotes + limited edition BONUS CD
A second snapshot of the English folk scene right now - from seasoned professionals to folk club singers, everyone is equal. Recorded on location, in front rooms and kitchens with two pairs of microphones, capturing immediate, intimate performances. For this second volume, we cast our net wider. From old Northumbrian kingdoms, through the Midlands, way over to the Welsh border, with an expanding set of experimental and traditional musicians interpreting the music that roots them, in their own unique ways. This is not the collecting of songs - rather, the documenting of a continuum that thrives, flourishes and persists in this country. This is each artist's response to what From Here means to them, by way of identity or place, feeling, reflection or memory: "this is who I am, this is where I'm from". COMPLETE WITH LIMITED EDITION BONUS CD.
Tracklisting:
gan tae the kye/peacock followed the hen NANCY KERR
the sandgate dandling song RACHEL UNTHANK
cottenham medley C JOYNES
the almsgiver RICHARD DAWSON
ladle/richmond CATH & PHIL TYLER
barbera allen MARY HUMPHREYS & ANAHATA
the king of rome JUNE TABOR
adieu sweet lovely nancy LAURA SMYTH & TED KEMP
two lovely black eyes COHEN BRAITHWAITE-KILCOYNE
a young woman's tale GRACE PETRIE
nightingales BELINDA KEMPSTER
bonnie pit laddie/lads of alnwick KATHRYN TICKELL
so much to defend CHRIS WOOD
nancy clough SANDRA & NANCY KERR
BONUS CD:
poverty knock BRYONY GRIFFITH
lord lovell MARY HUMPHREYS & ANAHATA
lily FRANKIE ARMSTRONG
drink old england dry COHEN BRAITHWAITE-KILCOYNE
can we afford the doctor? SANDRA KERR
amazing grace WILL POUND
This bundle also includes: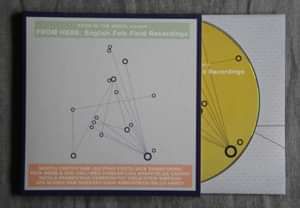 English Folk Field Recordings Volume 1 CD with foldout map and sleevenotes
In 2016, following their ground-breaking debut album release, radical folk band Stick In The Wheel began a field recording project with some of the best loved names in folk music. Recorded on location, produced and curated by Nicola Kearey and Ian Carter, these brand new recordings offer a different way to hear some distinguished folk names alongside lesser known artists. Renowned for music that's true and unadorned, they invited the musicians to think about what 'From Here' means to them - by way of place or geography, or as a way of exploring their musical origins - 'here's what I am, this is where I'm from'. An investigation not only of the past, but also of cultural identity; what it means to be making folk music now. "Our aim is to connect folk music to a wider audience whilst challenging the perception of what it is - here are important artists, performing in the most traditional way possible - raw and powerful." This carefully curated collection is a snapshot of English Folk music right now, connecting the old to the new, the past to the present. It's an intense, intimate experience for both artist and listener.
Tracklisting:
Jack Sharp - Bedfordshire May Carol
Eliza Carthy - The Sea
John Kirkpatrick - Here's Adieu to Old England
Bella Hardy - The Ballad of Hugh Stenson
Martin Carthy - The Bedmaking
Nicola Kearey - Georgie
Jon Boden - Fathom the Bowl
Lisa Knapp - Lavender Song
Spiro - Lost in Fishponds
Samuel Lee - The Wild Rover
Stew Simpson - Eh Aww Ah Cud Hew
Fran Foote - The Irish Girl
Sam Sweeney - Bagpipers/Mount Hill
Fay Hield - Bonny Boy
Peta Webb & Ken Hall - Just a Note/Wild Wild Whiskey
Rob Harbron - Young Collins/Getting Up Stairs
Men Diamler - 1848 (Sunset Beauregard)